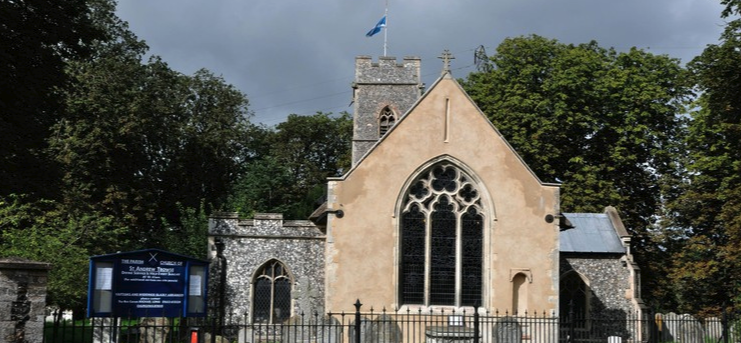 I met with Stuart to have a chat about how it was to get started with ChurchDesk and how they improved their communication within their congregation and community.
Welcome to St. Andrew's Church in Trowse, just outside the city of Norwich in Norfolk. This beautiful church dates back to 1281, when it was founded by William Kirby, Prior of Norwich. The tower was then added on the 15th Century. Sadly by 1899 he church was derelict but thanks to the vicar at the time, William MacNaughton-Jones, restoration of this charming church began. I would highly recommend having a look at their virtual tour here.
Stuart Nottingham from St. Andrew's has been using ChurchDesk and been hooked from the first time he saw ChurchDesk and we're happy to have him. When we asked Stuart about how he came to ChurchDesk, his response was: "I saw an advertising flyer I think, and once I had seen what ChurchDesk was like, I just wanted to stick with you!"
All the help available you need
At ChurchDesk customer success is a huge priority for us. To make a difference software needs to be implemented and accepted throughout the organisation. We do that by having a constant focus on our customers from our customer success team. We are here to help you to grow. We want you to save time on administration, so that you can spend more time on your church. That is whenever you have a question - we are here to help you by phone, e-mail or chat. When I asked Stuart about his experiences with our customer support he responded, "I found that starting using ChurchDesk was made easier because of all the help that was available from your staff, both on the telephone and on your helpdesk."
Meet the congregation and community whenever and where ever
I asked Stuart about what his favourite things about ChurchDesk are to date. I have highlighted the essential recurring word he mentioned: "Once I had become used to the way the website works, it became easy to keep it updated, which, to me, is most important. It all works as an integrated solution with all tools available. The site is easy for users to access information, and looks modern and attractive. The fact that users can request prayers through a form, or a download of an electronic copy of the village magazine, are most important elements of the user experience. We also provide a Twitter Feed, a copy of the latest weekly rota, and a Sermon Blog - all of which I consider are good features of ChurchDesk," Stuart says.
And most importantly; Stuart and St. Andrew's are present many places and have experienced that it has become easier to provide the congregation and community with the word of God whenever and where ever they request it.
On a journey together
We're looking forward to continuing our journey with St. Andrews and with Stuart. We hope to continue to make Stuart's life easier whilst improving communication within the church. Welcome to the family St. Andrew's. I will close with my favourite quote from my chat with Stuart: "It's good to know that we have the backing of ChurchDesk staff should we experience any problems."