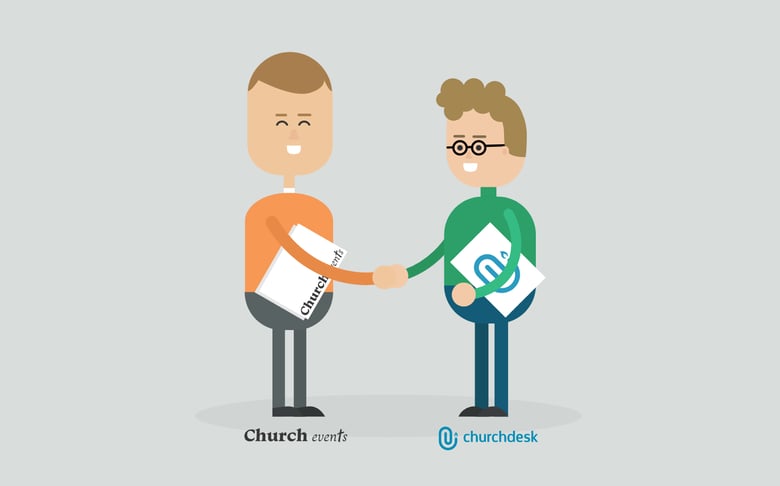 The leading event portal for churches in the German speaking countries across Europe now gets a strong partner. ChurchDesk and Church-Events join forces to support churches in their digitisation.
New benefits to the churches on Church-Events
Church-Events is now officially a part of ChurchDesk. The successful features of Church-Events will continue and customers won't experience any changes to terms and conditions. As such, the current Church-Events product remains as an offering within ChurchDesk.
The integration of Church-Events brings new benefits to the churches on Church-Events. All customers will the ChurchDesk calendar included automatically and free of charge. We are also adding unlimited and free support to all users.
The church relies on reaching people
"Churches rely on the ability to reach people and signups are becoming increasingly important", says Ingo Radermarcher, founder of Church-Events. "Many asked themselves how to stay in touch with people through Covid-19. We built Church-Events to provide an answer to this and help with signups for events and services. By joining ChurchDesk we will enable the churches to continue on their digital journey and add important communication tools to the offering."
Today, Church-Events has established itself as an established service for churches and Christian organisations with more than than 100,000 signups and booking.
New ways to enhance the digital communication
ChurchDesk offers a comprehensive suite of tools to communicate and help churches reach people. The integration of Church-Events into ChurchDesk is a great next step for churches that want to move beyond signups and enhance their digital communication to stay in touch with people.
As signups become a larger part of church life the need for other and more flexible forms, messaging and digital newsletter also increases. Staff and volunteers will need to schedule events and services through a digital calendar. Many churches need to add payments and giving to their events to allow for digital payment and less paperwork. ChurchDesk integrates all of the workflows in a user-friendly and seamless experience. It is built for churches and supports all denominations across both single churches and parishes to larger benefices and dioceses.
"We are happy to welcome the churches from Church-Events. Together we will continue to provide the best digital tools to support churches in their development and mission to reach people. Ingo and his team have built a strong product in Church-Events and we're happy that they have chosen ChurchDesk as their new home," says Christian Steffensen, founder and CEO of ChurchDesk.
No changes to features and conditions
The current features of Church-Events will remain and the users won't experience any changes to what they know and enjoy. We will continue to improving the product and the first large update has already been released. We are happy to offer the full ChurchDesk Calendar as a part of Church-Events free of charge.
The terms and conditions of Church-Events will also remain unchanged. New churches and organisations are free to join alongside.