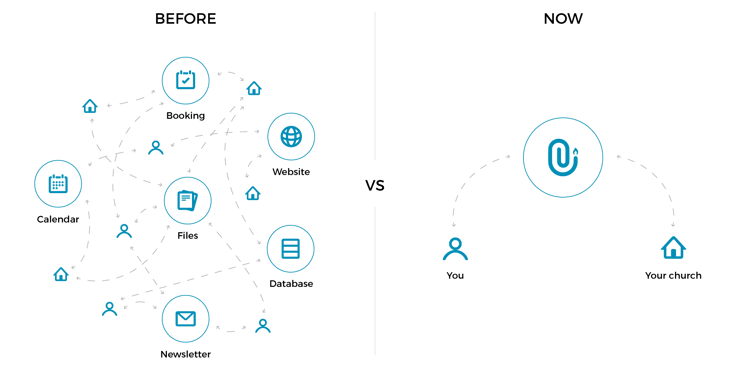 The relationship between our sales team and our clients is a very close one. Many times you understood and you are now certain that YOU want ChurchDesk for your church. There is one small hurdle remaining... the PCC or parochial church council needs to give their stamp of approval. The problem here, that nearly always arises, is that Phil, Arran or any of our other dedicated team can not be there when you present your case for ChurchDesk. As a result of this we have received numerous requests asking for assistance. I have decided to put together this article to help you answer all the most frequently asked questions at the PCC.
20 of the most common questions asked by the PCC
Over the last three years of talking to the church on a daily basis we have found that the most difficult part of the on boarding process, is giving you enough information to take to the PCC. The following 20 questions and answers will hopefully give you all the ammunition you need for your next meeting. Everyone deserves great tools to work with and the church is certainly not any different…
What is ChurchDesk?
ChurchDesk is a Church Management System that helps your church effectively manage the many tools used to engage and support your members. Our platform groups together various systems and is accessible from any location via a secure loginaccessing your ChurchDesk from anywhere in the world and with our fantasticmobile app you will never have to be too far away from your "desk".
Who can use ChurchDesk?
We have churches from all over the world and across many denominations. We also don't expect you to be great at IT. This is why we are here. We believe everyone deserves great church management software and we have the team and experience to make this happen for you too.
Who are ChurchDesk?
ChurchDesk currently has offices in London, Copenhagen and Hamburg. We are a team of 30 representing 13 different nationalities. We believe the church needs great tools to do their work and engage their members. We are a company dedicated to building church management software and serving churches all over the world.
What is Church Management Software?
ChurchDesk is a cloud-based management system, built with the single intention of managing a church. It includes a number of tools to organise your church and engage your members. Everything is accessed via a log-in and all your data is stored securely. There is nothing to install and/or worry about, any system updates take place automatically. The ChurchDesk solutions includes everything the church requires to run their administration and communicate effectively and efficiently.
What do they mean by all in one?
Many churches are experiencing a lot of disconnected systems. As a result their workflow becomes difficult and often times information and data is lost. Everything in ChurchDesk is integrated, this helps making collaboration and sharing easier. This is unique to ChurchDesk and we call this an all-in-one solution.
Why do we need ChurchDesk?
We believe that currently the church faces its greatest opportunity to date. It is simply no longer enough to send out a paper newsletter every 3 or 4 months. Members of your church are waiting to hear from your clergy and the church right now! These are conversations that will form a relationship between you and your congregation for life. But how does your church best communicate in a modern digital world? At ChurchDesk we are on a mission to change the church , providing great software that can help improve not only your daily work BUT how you communicate with your congregation. Our goal is to save you time on office admin with our innovative administration tools, which in turn will allow you more time to concentrate on your members . Not sure how to reach all your congregation effectively and efficiently? No problem, ChurchDesk has you covered here with our revolutionary "People" module.
Is ChurchDesk Safe?
Our data security is audited by the leading IT security firm and our servers are ISO certified Your church and your members' information is personal, at ChurchDesk we keep it that way ChurchDesk cloud based service is fully secure with our servers are located in the EU and the facilities are ISO27001 approved. We are evaluated by an independent auditor, TÜV IT and comply with all EU data protection rules. All communication between our servers and customers is encrypted and all data stored at ChurchDesk remains your property. ChurchDesk commits to deleting all customer information if the contract is ever cancelled. For more information please see our Data Security information on our website.
Do we choose which Modules we want?
With ChurchDesk there is no need to make a choice. Even the smallest ChurchDesk package comes with our four main modules.
What does "People" mean?
The "People" module is our database at ChurchDesk. However, our database is fully integrated with your other ChurchDesk tools. Target your Members and communicates with them directly. We chose the word "people" as it is more than just an address book and extends far beyond the constraints of a normal database feature. Fully interactive with your calendar and blogs. As well as this we offer the opportunity to segment your congregation and then communicate with these segments as you see fit. Create as many filters or tags as you wish. People is an incredibly easy tool to use and logs all deliveries. This means that you and your church can begin to collect and track data on your congregations interactions with the church.
What does the "Intranet" mean?
The "Intranet" is where you will find all the internal workings of your church. The "Intranet" will certainly become the heart of your church administration. Keep yourself up to date with all the latest church events and invitations. As well as this, the "Intranet" is where you can collaborate, store files, photos and send internal messages/blogs.
What do they mean by "Calendar"?
Book and manage all your resources in one place. At ChurchDesk we want to make your life easier and with us you have a cloud based church management system that makes communication easier. As well as this, we offer various tools to improve your organisation and efficiency. The hope is, that with ChurchDesk, you will save time and as a result spend more time with your congregation and community. At ChurchDesk we are passionate about facilitating a better working environment with more group interaction and co-operation. With our calendar function you can; send flexible notifications.
What is meant by "Website"?
We offer a great looking website that syncs with all your other ChurchDesk modules Your Church website is your church's window to the world. Your church website is a valuable marketing resource. If you are planning on attracting new members, the website is the tool! With ChurchDesk you get a great looking website that syncs with all the other ChurchDesk and Social Media apps. Not an I.T. wizard… no problem our team is here to help.
What about our exsisting data?
Moving data from one place to another is generally expensive and time consuming. At ChurchDesk we want to make life easier... this includes setting you up and getting you started. We will make every effort to facilitate and help with moving your data over to ChurchDesk.
We are not tech savvy, therefore ChurchDesk

is not for us
At ChurchDesk we are committed to changing the way the church communicates with its congregation and improving how the church performs its administration. We know that not everyone in the church is going to be up-to-date on the latest technology. However, we are; we eat, breath and sleep technology for the church. If you have a problem we are simply a phone call, live-chat or email away. Plus, with our many online tutorials and recorded webinars, we believe we can make the transition as painless as possible.
What is the Price?
Every church should have the ability to adopt the ChurchDesk system. This is also why we have packaged our solution into different sizes and prices. We also allow you to pay monthly to get started with very little commitment. Our churches don't leave anyway; so why get into long contracts? Our All-in-one solutions start at as little as £44 a month. Calendar, intranet, website, database, security and so much more all in one place!
What if we leave after 1 year

?
Obviously we hope this doesn't happen, however, if you do decide to stop ChurchDesk commits to returning (and deleting) all the data we have on your church within 60 days of the contract termination. For more information please see our Terms of Agreement on the website.
How easy is it to get started?
ChurchDesk is a complexed platform with many moving parts, thats what makes it so great. Even though the platform is so complexed the set up is very easy. We are not saying that setting up ChurchDesk is simply a case of installing, change is never easy. It will take time and it will require you to invest some time into learning our new system, I can guarantee that the more you put in, the more you will get out. For example, when all your data is spread out across various different tools, spreadsheets or in people's heads, you can only ever guess when it comes to engagement levels and church health. Data is an incredibly valuable resource, without suitable church management software, this resource is going to waste. Having all this data in one place allows you to have much more clarity about your church and its needs. However, we are experts at this! Don't worry we will make this process as enjoyable as possible!
Can we get extra training?
Yes. You can always get further training. As a part of your ChurchDesk start up package, we provide a comprehensive ChurchDesk Administration Certification for free. Further certifications are available at a small fee.
Why do we need to change? Our old system

has worked for years
You may believe that your current system is working, I'm sorry but it is not. What about data? Is your church collecting data correctly and then using it efficiently? Are you aware of the upcoming EU Data Security Regulations? What about your church's youth? Do you communicate with them in a way that they can relate? If any of these questions are answered with a no, then I strongly suggest you review your current approach and let us at ChurchDesk help you.
ChurchDesk is a Danish company, why is it

not British?
The PCC have asked, in the past, why we are a Danish Company? ChurchDesk is not exclusively a Danish company. Yes, our head office is in Copenhagen however we also have offices in London and Hamburg. Our servers are located in Frankfurt and our team members are from all over the world including Zimbabwe, Thailand, Eritrea, Tunisia, Romania, Lithuania, Italy, Belgium, United Kingdom, Germany, France and of course Denmark. We pride ourselves on being a multinational and culturally diverse company. We feel that because of this we are able to provide such a high level of service. If you are concerned about the "fine print" we have explained it all in our terms of argreement section on our website.
So there you have it, 20 questions that the PCC will most likely ask you at your next meeting about ChurchDesk. We can't always give you a Phil or an Arran (although recently we have started to be present in a cyber sense, with webinars being booked to coincide with the PCC meeting) to take with you into the next meeting, but hopefully this article will help overcome their natural hesitations. As always, if you have any questions, please drop us a line and we will address all and any queries you may have... support@churchdesk.co.uk
Not a member of ChurchDesk yet? Click the green button!