Ask most electoral roll officers and church wardens about what they're looking forward to at the moment and the answer's probably not the Electoral Roll refresh. We've now integrated the Electoral Application process is directly integrated into ChurchDesk.

How to do the Electoral Roll Refresh in ChurchDesk
Every six years, each parish in the Church of England has to create a new list of its members. Traditionally this has meant hours of work trying to make sense of illegible handwriting, stacks of forms, chasing people and missing forms, and then the inevitable double and triple-checking.

Doing the Electoral Refresh is also a great opportunity for getting consent for communication about your activities and get to know people better. "e believe those two things are fundamentally important for your missional in a digital age.
Simple steps for managing your Electoral Roll Refresh
In the following, we will outline the steps you can take to manage your Electoral Roll Refresh as well as updating consent.
Step 1: Start with our Electoral Roll Application Form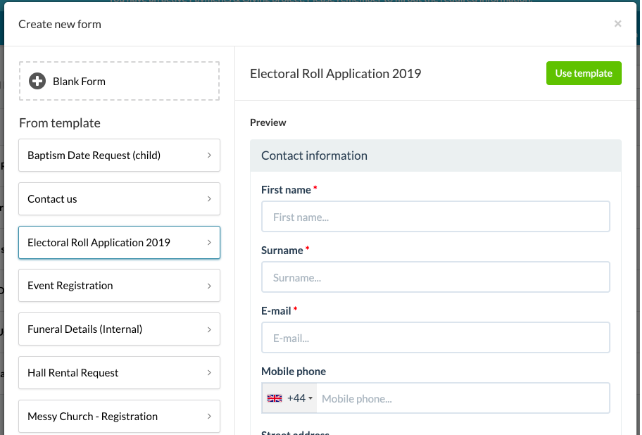 Our template follows the standard of Parish Resources. Once you have chosen our Electoral Roll Application form we automatically create the necessary fields in ChurchDesk People to register Electoral Roll data from the Form in ChurchDesk People.

Step 2: Get consents (Optional)
Take the opportunity to ask for consent for communication about news and activities at your parish. This will help you build stronger relations with everyone on the Electoral Roll. To help you get the appropriate consent we already automatically suggest to ask for the consents you have set up in ChurchDesk. If you haven't set up any consents in ChurchDesk - you can see here how you create and manage consents in ChurchDesk.

Step 3: Get to know people's interests (Optional)
We would also suggest to you ask what kind of information people would like to receive from you. Eg. news about family activities or similar. Not only can you make better plans for what you'll offer, but you can communicate with them based on their own interests and encourage them towards further involvement in the life of the church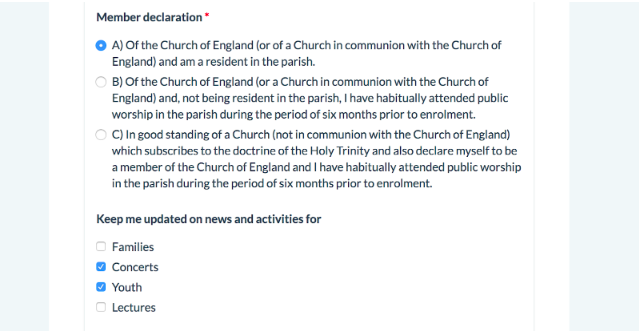 Step 4: Approval of the Electoral Roll Application
Once you have received all of the applications for your Electoral Roll and you've closed the form it is now time to approve the eligible applicants. Simply create the list of applicants directly by clicking create list directly on the form.
We recommend that you create two tags for handling the approval process "Approved - Electoral Roll 2019" and "Declined - Electoral Roll 2019". When you have created list you can check multiple contacts at the same time to mass update them with the tag "Approved - Electoral Roll 2019".
Step 5: Create your Approved Electoral Roll List
Once you have approved every applicant that should join the Electoral Roll you can simply create the final list of the Electoral Roll 2019 based on the tag "Approved - Electoral Roll 2019".
Now you are all set you can easily communicate with everyone on your Electoral Roll list as well as export the list for your different need.
Frequently Asked Questions

What if we used the previous form and have already received submissions?
Then close down your current Electoral Roll Application form and open a new one using our new template for Electoral Roll Application. Write to us at support@churchdesk.com before the 23rd of February which form you have closed down and we will manually enter the data on your new form.
Are we allowed to use an electronic form for our Electoral Roll Refresh?
Yes. By entering their name and the date of application, an electronic form meets the requirements under the Church Representation Rules.
Are Consents mandatory for the Electoral Roll Application?
No. This processing is required in fulfilment of the legal obligations set out in the Church Representation Rules. You can read more here.
What if we are multiple parishes sharing a ChurchDesk installation?
Then we recommend that your create an additional field in your contact database where you can select which parish you apply for. You can see here how.
What if people want to fill out a paper form?
Then simply print our form to the potential applicant. To make the form print-friendly then simply take the link for sharing the form (looks something like this https://forms.churchdesk.com/f/HktUZ5-BN) add /embed to the URL so it now looks like this https://forms.churchdesk.com/f/HktUZ5-BN/embed. Visit your new URL and print the page in portrait mode. Once the applicant returns the form you can then enter the returned form directly via the electronic form itself meaning the approval works as intended.
What if multiple applicants share an email address e.g. a couple?
ChurchDesk, like many other systems for contact data, require either a unique email address or a unique telephone number for each contact to synchronize data correctly to ChurchDesk People. With the update on our Electoral Roll we are also making an easy overview of what data has been synced to ChurchDesk People for each form submission. We expect to release this overview on the 20th of February.