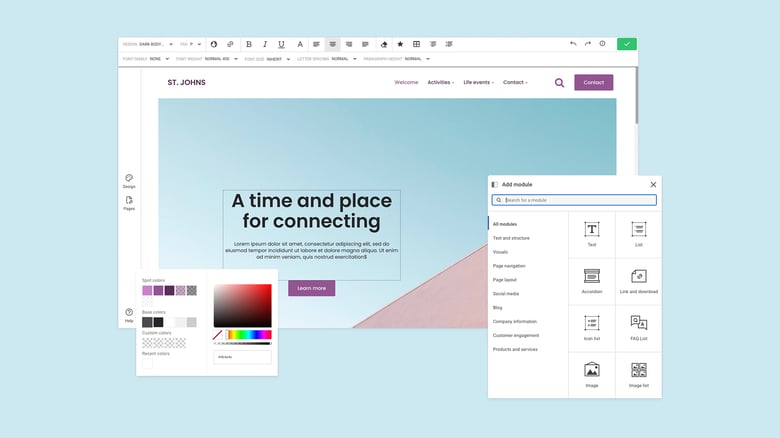 On June 1st our brand new website editor will be available for you in ChurchDesk. With our new website editor, we offer much more design freedom and many new features. The new website will remain easy to use and fully integrated across all the ChurchDesk tools ensuring that your website automatically updates.
Creating stunning church websites has never been easier
A simple website editor
You don't need to have experience with web design to create your website in ChurchDesk. Click where you want to edit as well as drag'n'drop to re-arrange page content. You can copy whole pages or simply copy and paste page content to place it where you want it.
With the built-in version control, you can also easily revert back to a previous version. Change everything you want and then publish when you are ready - draft mode is the default.
Add and customise prebuilt pages and page elements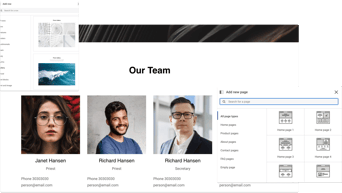 We offer several prebuilt pages that you can add and customise to your needs. We have even prebuilt page elements that you can add to any page. It has never been so easy to make the perfect church website.
In addition, we offer more pre-designed website templates for churches in our Studio add-on. Complete designs that are ready to use.
Your website. Always up-to-date.
Once your website has been set up, everything runs automatically. Any changes in your calendar will always be updated directly to your website. The same applies if you add sign-ups to events, create newsletter lists and more.
Why is the website editor being renewed?
Two reasons have led us to renew our website editor: The technology that forms the basis for the current website tool will no longer receive security updates from November 2023. Therefore, we can no longer guarantee the security of your current website from that date.
And secondly: Many parishes have reported back to us that the design options of the current website tool are not sufficient for their needs. With the new website editor, there will be many more possibilities to design the website, while the handling will continue to be as simple as possible. Our goal was to provide you with a tool that makes it easy to create stunning church websites.
What happens to my current ChurchDesk website?
Your current ChurchDesk website must be moved to the new editor. We will be happy to do this for you free of charge if you register the move with us before 1 May. Your organisation administrator has received all the information about this by email. If you cannot find the email or are unsure, please feel free to contact our support.

On October 31st, 2023, your current ChurchDesk website will be shut down and will not be available for editing or viewing. So if you are moving your website yourself, please make sure you have completed the move by then.
When will the new website editor be available?
The new website editor will be available to all customers on 1 June. This applies regardless of whether you let us do the website migration for you or whether you want to create the website from scratch yourself. If you want us to move the website for you, you must book this before May 1st. If you want to move the website yourself, you have until October 31st, 2023 to do so. After that, your current website will be switched off.
We will present the new editor at our online user meeting on April 18th, 10am (GMT)
Will there be the possibility to include cookie banners?
At the same time as the new website editor, we are releasing our Cookies & Analytics add-on, which ensures that cookies are always correctly queried and blocked and also outputs website statistics that are compliant with GDPR. For the launch of our website editor, this additional tool can be booked for £8 instead of £11 per month in the first year. We have sent all the information about this to your organisational admin by email.

If your church uses a different cookie solution, you can also include this on the new website. Unfortunately, our support team cannot assist with setting up third-party solutions.
How does the Studio add-on affect the website editor?
With Studio, you unlock the full potential of your website. You have access to five page templates instead of one, a library of content blocks and advanced features such as an SEO checker, the ability to include search or social media content on your website and advanced design options for website widgets.

To mark the launch of the website editor, you have the option to book Studio for £29.99 instead of £40 per month for the first year. We have emailed all the information about this to your organisation admin.
Frequently asked questions
How does a website migration through ChurchDesk work?
We move all websites for which a move through ChurchDesk has been registered to the new website editor before October 31st. The process is on a first-come, first-served basis. This means that the earlier you register your move, the earlier you will have access to your new website.
The design and content of your new website will match your current website at the start of the migration process.

Does ChurchDesk access data we have stored in the tools during the move?
No. Of course we do not access your protected data for the move. All information relevant to the move is already published on your current website.

Will there still be page templates?
Yes, there will be one page template available in the new editor, or five if you have the Studio add-on. You can use these templates as a starting point to design your website and fill in your texts and optional images accordingly. In the Studio add-on, there is also a library of ready-made content blocks available, which make the design of the website much easier.
Unlike the current tool, our new editor links content and design. This means: you will not be able to change the design at the touch of a button and all content arranges itself automatically.
Do you have other questions?
At our online network meeting on April 18th, we will show you the editor and answer any questions you may have.