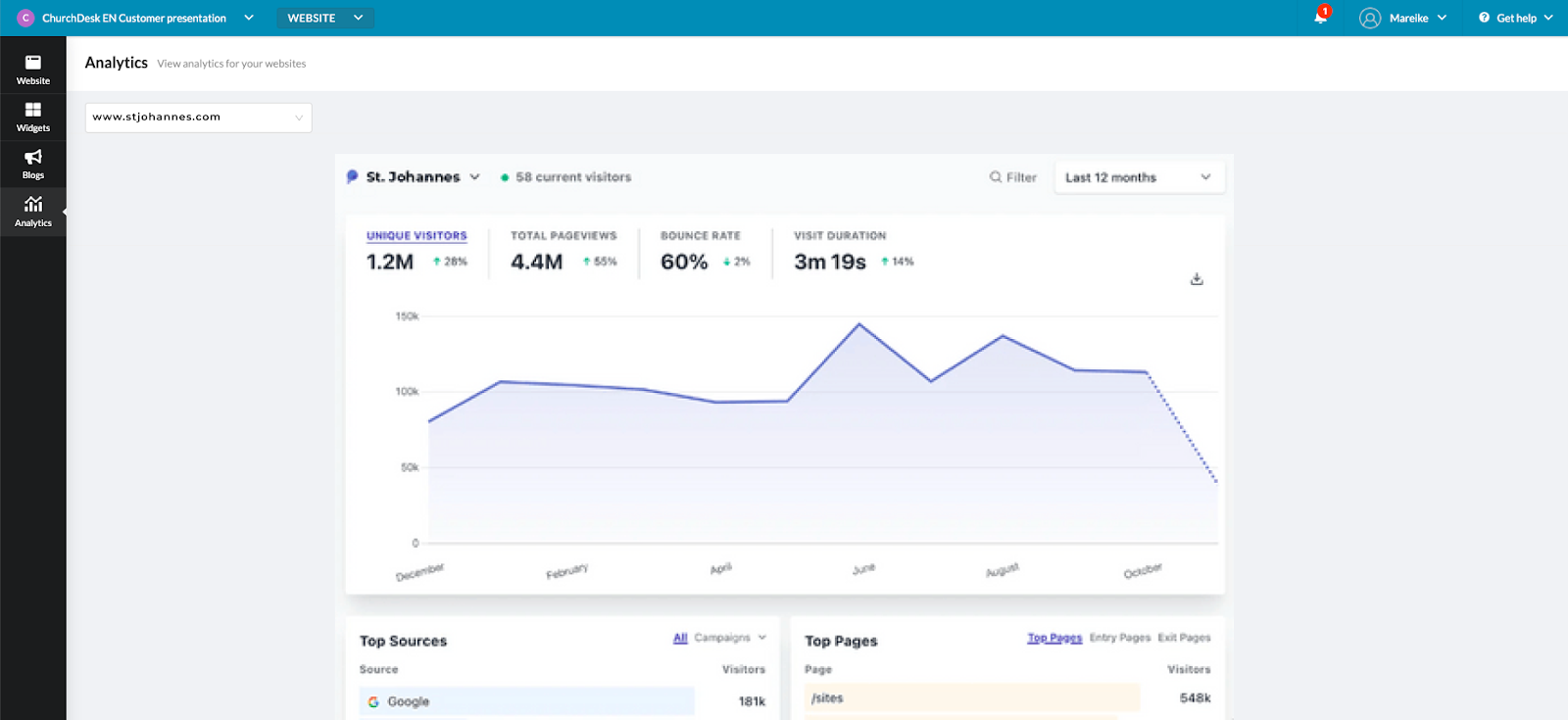 Who actually visits your church website? Whether it's parents of confirmands, a family new to the church looking to connect, or young people wanting to find out about the musical activities on offer - every group visits your website with a specific goal and it's important for you to know whether they are achieving this goal. ChurchDesk's new Analytics tool gives you exciting information about your visitors that you can use to drive your church forward - fully privacy compliant.
What are analytics?
Website analytics provide you with background information about what exactly is happening on your website. In an analytics tool, for example, you receive information about how high the visitor numbers are over time, which subpages visitors visit first or how long they stay on your website. These insights can help you to categorise the quality of your content and website and thus improve your online presence. We are therefore pleased to introduce you to our Analytics tool, which is part of the Cookies & Analytics add-on tool.
Analytics can offer you insights into where your visitors come from and how long they stay on the website. How do your visitors behave on your website? Is there a subpage that is visited for a particularly long time? You can use this information to improve your content and communication. After all, to understand what type of communication works for your target group, you need a factual basis. As a church or parish, it makes sense to keep an eye on website statistics so that you can objectively evaluate and optimise the impact of your external communication instead of relying on a vague feeling. Track trends in visitor numbers, event registrations and which entries are read how often in order to develop suitable events and overall content.
Why are analytics so important?
Communication is the foundation of parish work. When you work with a group in a room, you can sense whether the communication style you are using is being received or not. But that doesn't happen on your website. The communication process takes place through your content. Website analytics can help with this: For example, if you have a registration page that has been visited very often but has resulted in very few registrations, this tells you something. Perhaps your offer is not interesting or it is not clear what to do. Understanding who your visitors are, where they come from and what interests them is the key to successful communication.
Responsible handling of data
Data protection is always an issue for churches and ideas and initiatives are often thwarted because the data protection issue has not been clarified with certainty. Not only the GDPR, but especially the church data protection laws must be observed by your church. This also applies to your website: As a church, you have a responsibility to protect the data of your website visitors.
This can be a challenge, especially when collecting website statistics. Common services such as Google Analytics are no longer an option for churches.
In a world where data protection is a high priority, many churches are faced with the challenge of finding data protection-compliant analytics solutions for their websites.
ChurchDesk Analytics: Data protection compliant and easy to understand
With our new analytics tool, you don't have to worry about data protection. We have made sure that our tool is GDPR compliant. Nevertheless, you gain valuable insights into the statistics of your website.
The analytics tool provides actionable insights such as:
- The number of visitors to your website
- Geographic locations of your visitors
- Information on the devices, operating systems, and browsers your visitors use
- Referral sources driving traffic to your site
- Session durations based on referral sources
- Landing pages where visitors enter your site
- Bounce rates, indicating how engaging your content is
We have also made sure that you don't have to pre-set anything and that everything is clearly laid out. Fully integrated into our system and suitable for beginners, it's ready to use straight out of the box. ChurchDesk Analytics provides valuable insights from the moment the module is added to your website. There's no need to create customised reports or navigate through complex menus. All important data is presented in a single, easy-to-understand dashboard. The aim is to track general trends in the use of your website, not individual visitors.
Exporting to .cvs format is also possible. This is particularly handy if you need to transfer information to a database programme or spreadsheet that uses a completely different format.
Your website is often the first point of contact for visitors - make it as inviting as a warm welcome at the church door.
Click the button to add Cookies & Analytics to your ChurchDesk.