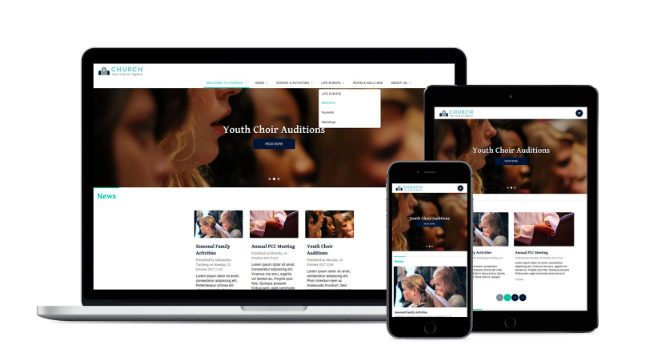 People are also increasingly using their smartphones and tablets to browse online, so your website, of course, also needs to look good on any device. New beautiful and responsive website design in ChurchDesk
New responsive designs built for churches
Maintaining your church website is not an easy task. Content has to be well-written, relevant and not go outdated. Finally, your website design should also look good and be pleasing to your visitors.

Luckily, ensuring a beautiful responsive website is easy with ChurchDesk – especially if you choose to use one of our latest themes. We've had one of our designers come up with an all-new design. It's simple, sleek, and modern – similar to what you might find from companies such as Apple and Google – and the responsive layout looks wonderful on all mobile devices.
Want to try the new design?
Changing your website's design in ChurchDesk is easy. All you need to do is choose your favourite and click 'save'. Now your website will have a new design. We'll delay the design change for all your visitors, so you have time to switch back in case you should change your mind.