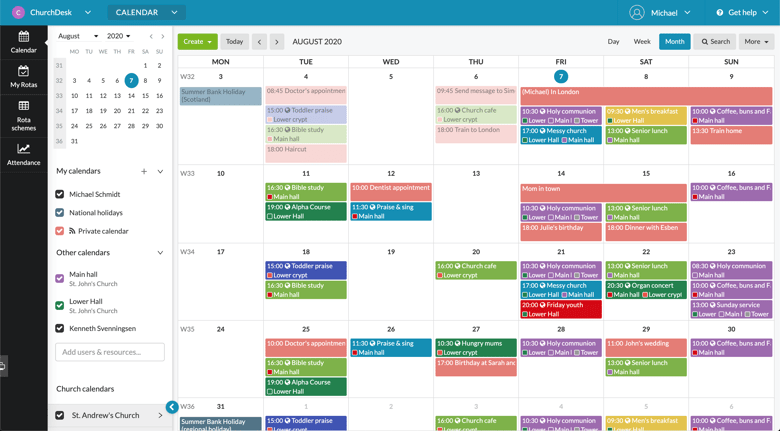 We've received many requests for the following improvements which we're excited to introduce to you.
Our tech team always works to improve ChurchDesk. All updates are delivered to our users at no extra cost, and today, it is time for these much-requested new features in the calendar:
Add preparation- and clean up time to your events
See booked resources on events in the day-, week- and month overview
Add your personal or other external calendars to the ChurchDesk Calendar
Add preparation- and clean up time to your events
Many of your events require time before or after to set up, clean up, or reset the room and equipment. This time is critical for you and your colleagues to be able to run your church effectively and not having to worry about events being booked too tight.
Now you can extend the minutes you wish to book the resources for. This will prevent others from booking the same resources within that timeframe. The preparation- and clean up time will not be shown on your website, in newsletters or similar.
Note: Not available in the mobile app, yet.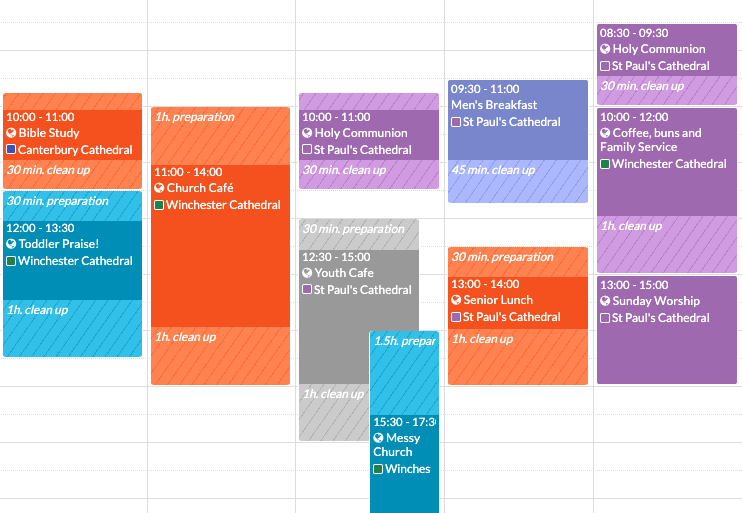 View booked resources right on the events
Enable resources on your events. This will give you a quick overview of where the event is taking place and can also help to show you which resources are available.
Note: Not available in the mobile app.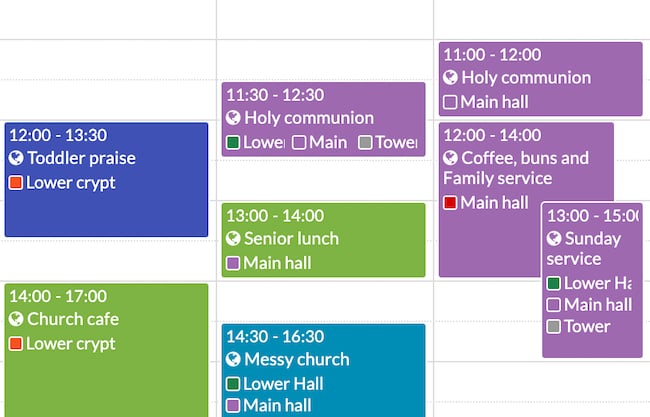 Add external calendars to your personal ChurchDesk Calendar
We wanted to make it easier for you to plan your work schedule in ChurchDesk. Now you can align your work and private life calendar by adding calendars from external calendar systems such as Outlook and Google into ChurchDesk.
All you need to do is copy the calendar URL and enter it into your ChurchDesk Calendar, as shown below. Only you'll be able to see the calendar in ChurchDesk and you can show/hide it whenever you wish to.
Note: Not available in the mobile app, yet.
We're not done! Much more is coming!
In the feedback we've received it was clear to us that in order to make the best calendar for churches we need to add more functionality. We'll keep adding more and more functionality to the calendar over time and we'll start with the following:
An easy-to-use absence calendar
To properly schedule a busy church calendar you need to know when people are absent. But with a busy calendar seeing everyone's absence at once can quickly make you lose the overview. The new absence calendar will let you easily see when someone is absent without cluttering your calendar.
See if a user is already booked in a different ChurchDesk Calendar
If you wish to book an organist who's associated with another church (that also uses ChurchDesk) you'll be able to see all the events that the user is booked for. An event from another church than your's will just be shown as "Busy" and the event's details will not be exposed.