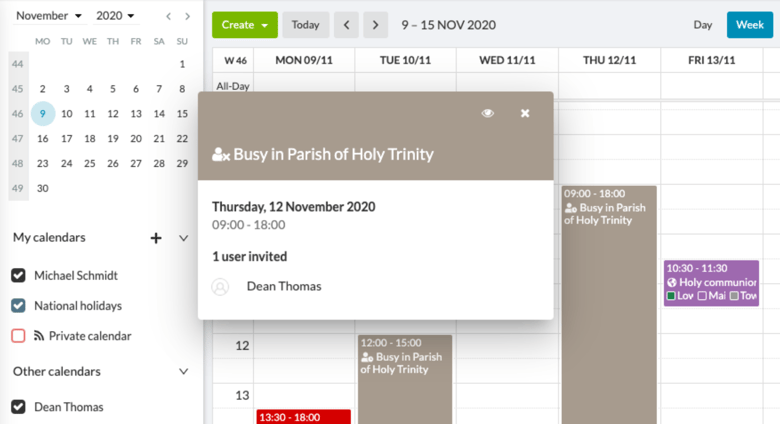 At ChurchDesk we're observing the everyday life of the church and have noticed how more and more churches have started sharing their human resources such as their organist, choir and even warden. ChurchDesk would like to help accommodate this new way of collaborating between parishes. That's why we're now providing you with a great solution to collaborate with your neighbouring parishes.
See when someone's busy in another ChurchDesk Parish
If you're sharing some staff or volunteers with a neighbouring parish there are great benefits in both of you using ChurchDesk. Not only will the staff or volunteers be able to switch easily between the two ChurchDesk platforms but when you look up their calendars in ChurchDesk it will show if they're booked for any events in another parish.
Get notified when you're booking someone who's busy in another Parish
If you're trying to assign staff/volunteers to a rota or otherwise book them you'll be notified if they're already serving in the neighbouring parish. As long as this parish is also using ChurchDesk.
Remember that we're here to help
When you get started with new functionalities, questions tend to arise. We encourage you to reach out to us via support@churchdesk.com if you have any questions.