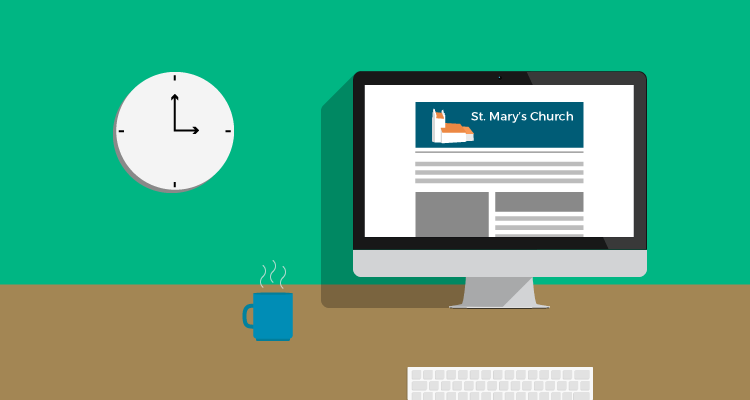 Want to be a growing church? Here are five tech tips to help you achieve your objectives. If there's one word that encapsulates the priorities of the vast majority of UK churches, it's "growth".
In an era of declining attendance and financial insecurity, especially in mainstream denominations like the Church of England and the Methodist Church, it's easy to see how increasing numbers has become the most pressing aspiration among religious leaders.
But growth needs to be more broadly construed than that. Growing churches aren't just places that burst at the seams with attendees. They are places where people grow in faith, gain confidence in articulating their own discipleship, and share the joy of their Christian vocation with others.
In other words, growth is a highly textured notion that describes every facet of Christian living. That makes it hard to pursue, and even harder to measure.
Even so, once churches have decided that growth is one of their priorities, they need a way to achieve it. And with its capacity to help make connections and build relationships, technology is a valuable tool. Here are five ways to deploy it in the service of your church's flourishing.
1) Be present
The Church of England has a simple strapline, describing itself as a "Christian presence in every community".
That's well and good, but in an online age, geography may seem less relevant to people than a point of connection that crosses parish boundaries.
"Most people are used to engaging with organisations using their smartphones, tablets or computers," explains Christian Steffensen, founder of ChurchDesk. "So churches of all denominations can't take it for granted that people will discern their presence just because of the physical proximity of their buildings.
"Churches need to get online and interact with people via a range of platforms. That way, they can show real engagement with people's lives – taking the gospel to them, rather than expecting them to come and find it on a Sunday morning."
2) Build good will
Of course, every Christian community strives to be a place of love and justice. But like any large organisation, the church needs to work at building relationships and maintaining connections with people.
With the right church management software, it's possible to keep in touch with everyone who interacts with a church, without carrying a heavy administrative burden.
A programme like ChurchDesk, for example, maintains a database of church members, event attendees and even people who visit for special occasions such as baptisms and weddings. This enables church leaders to target communications at particular audiences, ensuring the tone and content is right for their place in the Christian journey.
Even better, the software remembers dates like anniversaries and birthdays – providing the perfect excuse to get in touch and show that your community is characterised by care, thoughtfulness and a concern for others.
3) Have an organised online presence
"A decent church website should have clear information about activities, events, resources and support available, weddings, baptisms, funerals, and things like rooms for hire. This helps raise the profile of what and who the local church is as a vibrant place with people ready to welcome newcomers."
That's the view of Ali Campbell, a youth and children's ministry consultant who runs www.theresource.org.uk and has worked with a variety of partners to facilitate church growth. As his comments indicate, Ali believes a well-organised online presence helps draw people in by showing them what the church stands for, and making it easy for them to get involved.
As an example, Ali suggests that churches use email to share prayer bulletins, thereby helping people to get involved in the community's life in a way that is accessible and hassle-free. "[Activities like this] enable the church to be a blessing to the communities they are in," he concludes. "It's not about getting anything, but giving. [Such an attitude] massively raises the profile of the church."
4) Share stories on social media
In the Diocese of Bath and Wells, a strategy has been unveiled that bids Christian people to "live and tell the story".
This reflects a key insight about the life of Christian discipleship: it is a storied existence, where people understand their own lives by reference to the bigger story of God, revealed in the life of Jesus Christ.
One thinker who fully grasps the opportunities available to Christians in this regard is the priest-poet Ian Adams, who serves as tutor in pioneer learning at Ridley Hall in Cambridge and mission spirituality adviser with the Church Mission Society, as well as running the blog www.belovedlife.org/morning-bell.
"My hunch is that mission in the 21st century will increasingly be about sharing stories," he remarks. "We need to learn to share our story with humility, hearing the stories of others with genuine interest and compassion. Social media is one important way in which stories are being shared in our culture, and it seems to me that [the church] needs to be in this particular story-telling space."
5) Be multi-sensory
The theologian and philosopher James K.A. Smith writes in his book, Desiring the Kingdom, that Christianity views human creatures as embodied. That means the interaction between humans and God engages all their senses, and is not simply an intellectual pursuit.
The implications for the use of technology are simple, as Dr Tim Gibson, an Anglican priest, author and journalist, explains: "Technology enables churches to offer a multi-sensory experience, even when people aren't present in a church building. With the use of video, audio, imagery and words, churches can develop communications that do justice to the richness of their corporate life.
"That's a profound opportunity to reach new people, and build relationships with others," he concludes. "Which just goes to show: technology can be a means of extending the church's worshipping life into the world. It's something to be embraced, for the good of the kingdom."