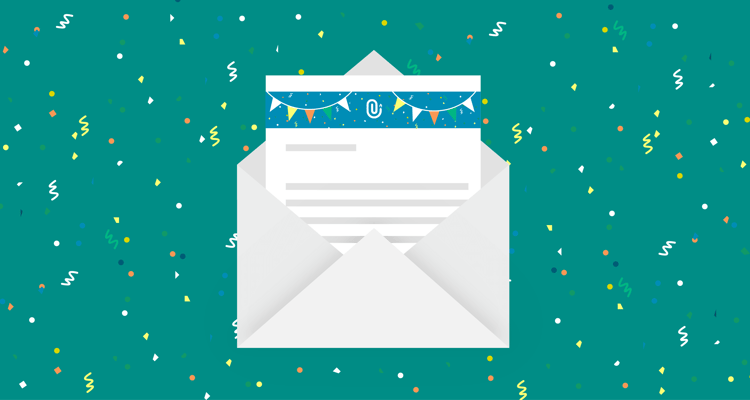 Give your next church event every chance of thriving with our guide to creating invitations.
So this is it. You've had an initial planning meeting and your church's next big event is taking shape. Now comes the challenge of drumming up interest, and you've been charged with producing an invitation.
But where do you start when it comes to engaging people? What are the things you need to say? And how best should you distribute the invitation, to raise awareness among the right audience?
To help you get started, here are five smart moves to producing a winning invitation. Follow them, and you'll have people beating a path to your church event. Which leaves just one challenge: how are you going to fit them all in?
1. Include all the relevant information
Sounds obvious, doesn't it? But you'd be amazed at how many people write an invitation and forget to include something straightforward like the start and finish times, or the venue.
The best advice is to make a list of all the must-include details. With these identified, you're in a position to start writing. On which subject…
2. Keep it simple
You may feel tempted to start your invitation with an eye-catching headline or clever wordplay. But our advice is to go straight in with the crucial information: Who? What? Where? When?
That way, readers will be able to see at a glance what's on offer. It'll be obvious what the invitation relates to, and they can make a well-informed decision about whether or not they're interested.
The same goes for the design of your invitation. Resist the urge to complicate it, or over prettify it. A straightforward, but nonetheless stylish and easy-on-the-eye, design is just the ticket. Anything else runs the risk of being a distraction.
3. Don't oversell your event
You and your planning team know that your event is going to be the highlight of the church's year. You're understandably keen to get as many people there as possible. But don't let this come across as desperation. If your invitation seems too plaintive – "Pleeeeeeeease come and support us, we've put a lot of effort into planning this event and we really want you to come" – it may well put people off.
Follow this simple rule of marketing: sell, but don't oversell. That way, you'll show people why your event is worth attending, without pushing it down their throat. This is the way to generate warm and fuzzy feelings, which encourage people to get involved.
4. Distribute to your "warm" leads first
If you have a limited number of spaces for your event, and you want to fill them as soon as possible to help with planning, it's sensible to identify the people who are most likely to attend.
Using a database such as the one available with ChurchDesk UK's all-in-one church management software will make this task straightforward. Just go through and identify people who fit the bill for your event. If it's a holiday club, that'll probably be people who have had their kids baptised, as well as your regular parent-and-child attendees. If it's a tea dance, you may want to focus on the seniors in your database.
Either way, by focusing your initial communication on the people most likely to take up your invitation, you'll save time, and stand a better chance of filling your event. Then, if you want to broaden the invitation nearer the time, you can go back to the database and identify targets for a second mailout.
5. Make it easy to sign up
One of the most commonly forgotten elements of an invitation is the RSVP. Event planners forget that people need a way of expressing their intention to come along.
ChurchDesk's Forms feature provides a fuss-free way for people to register their interest in an event. Simply set up a form that people can link to from your emailed invitation. It'll ask them for the information you need for planning purposes – name, number of attendees, age (if relevant to planned activities), dietary requirements and such like – and allow them to book the spaces they require.
You can also set up your invitation on your church's website, meaning that it's advertised to the wider population, too. Then, by using Forms to monitor attendance, you'll have an easy method of capturing new contact details and adding to your database. That makes future outreach even simpler, ensuring your church remains resolutely missional in all its activities.
Because, ultimately, that's what all this is about: reaching out to church members and seekers, and giving them a chance to get even more involved in your life together. Get your invitation right, and you'll free your energy to concentrate on planning the best possible event, where Christ's love can be shared far and wide. Good luck!