ChurchDesk's new forms feature makes it easier than ever to organise events, as Katherine Bulaon from Jesus Voice of Hope church discovered while planning a Mother's Day conference.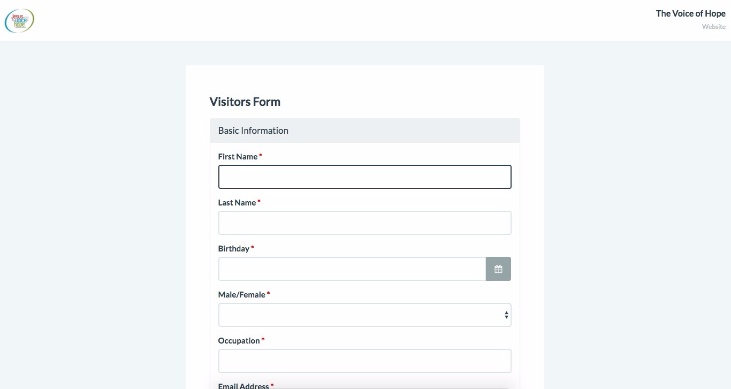 Ask Katherine Bulaon how ChurchDesk aids the smooth running of Jesus Voice of Hope church and she'll give you an enthusiastic answer.
"Over the last six months, it has enabled us to be more organised in how we manage databases and plan events," she says. "It's taken a load of work from our shoulders, meaning we can focus more on spreading the Good News and serving our community."
Given the difference ChurchDesk has already made to Jesus Voice of Hope, Katherine and her colleagues were obvious candidates when it came to testing a new feature prior to launch.
This enables users to generate attractive online forms that can be used by congregation members and the wider community to sign up to events. And if Jesus Voice of Hope's experience is anything to go by, it's set to bring a real enhancement to the ChurchDesk experience.
"We piloted the form functionality for our recent Mother's Day conference," Katherine explains. "It enabled us to create a sign-up sheet for the event, which is a real highlight in our church calendar. Without doubt, more people came as a result, and it's also made it far easier to collate participants' details so we can keep in touch."
Because Forms integrates with ChurchDesk's 'People' function, the details of attendees are easily added to a church's database. As a result, it's possible to identify potential invitees for future events by reference to what they've attended in the past, and to build ongoing relationships based on their tastes and preferences.
One of the key features that the Mother's Day event organisers appreciated was the ease with which they could construct their online form, especially by using the template designs that come as part of the package. "It was easy to add sections and gather additional information about attendees such as dietary needs or the number of children they were bringing," Katherine reflects. "We were also able to ask people how they heard about the event, which will help us with advertising in future."
By making the sign-up process much more straightforward, Katherine and her colleagues felt ChurchDesk's new feature helped drive interest in the event. "We actually booked it out two weeks in advance," she says. "That's not something we've ever done before.
"Rather than getting in touch with people to invite them," she continues, "we posted a link on our online calendar that gave a description of the event and enabled people to sign up there and then. This link was shared via text messages and social media, which made it even easier to spread the word."
Add that to the ease with which the form could be used via a smartphone or tablet, thereby obviating the need for people to log into a laptop or PC in order to join the event, and it's easy to see why it made life so much simpler for the organising team.
"The forms feature is a real enhancement to ChurchDesk," Katherine concludes. "It's given us greater clarity about the people participating in our event, and made it much easier to organise. The form was easy to construct, and very easy for the end user to fill in.
"All in all, I think it delivered a great user experience. I'd recommend it to any church organiser as a way of making life a thousand times more straightforward and freeing time and energy for the important work of evangelism."
About Jesus Voice of Hope church
Jesus Voice of Hope is a thriving Pentecostal, full gospel-based church in London, UK. It has been established for seven years, and has approximately 80 members – meaning it is well-placed to make use of ChurchDesk's pioneering church-management software.